Kolkata has no shortage of cute cafes – and if you are all about clicking INSTA-worthy pictures – full of quirky décor, gorgeous food and fantastic lifestyle, you've struck gold. The city of joy offers a slew of amazing cafes that are perfect for lighting up your Instagram feeds. Even some of them are the most #instagrammable spots in the whole city.
Below, we've rounded up 3 such cafes in Kolkata where you and your friends can relax and converse over piping hot cups of coffee and delicious finger foods, all while listening to some good music. Plus, these places have killer aesthetics – fire up your phone camera and update your social media feed RN.
Sienna Café
Straight out of Pinterest, Sienna Café is one of the quaintest little cafes in Kolkata full of artsy décor and vintage vibes. If you are health-conscious, you will taste nirvana here – everything they serve on the menu is 100% organic, homemade and fresh. The gorgeous outdoor setup and fairy light décor win them extra brownie points.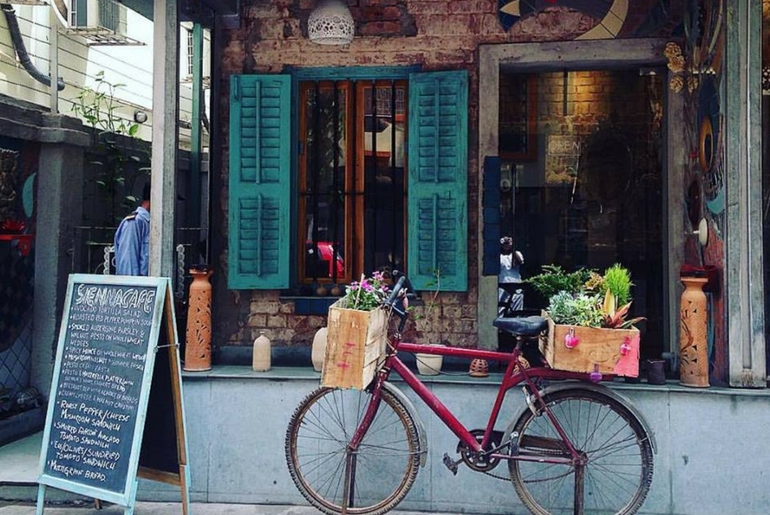 The menu is full of sinfully delicious items – including Avocado Tortilla Salad, Spiced Hot Chocolate and Dark Chocolate and Mandarin Orange Marble cake. All of them are an absolute must-have as well as their coffee.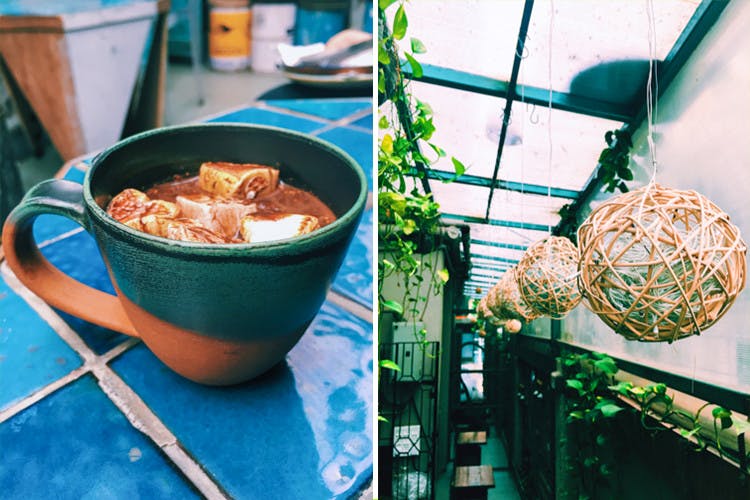 Also, don't miss the store attached to the café; it sells some of the most unique pieces of jewelry, clothing and ceramics in the city.
Sienna Store & Cafe
49/1, Hindustan Park, Gariahat, Kolkata
Price for two: 500 INR
Ph No: +913340658123
8th Day Café
A cute cozy café with minimal décor, cool vibe and amazing food, 8th Day Café is popular amongst the youth. Every other day, they organize some art and music events or poetry reading sessions. No wonder, the day you decide to walk into the café, you might find yourself catching up an impromptu jam session. Woah!
In terms of décor, dark wood furniture against a white-brick wall is an instant crowd pleaser. Also, the plush sofas and cutesy wall doodle add a comfortable feel to the interior.  If you are with your friends, don't miss playing their board games or scrolling through the books and merchandise displayed on their shelves. Guaranteed, you will have the best time with your gang!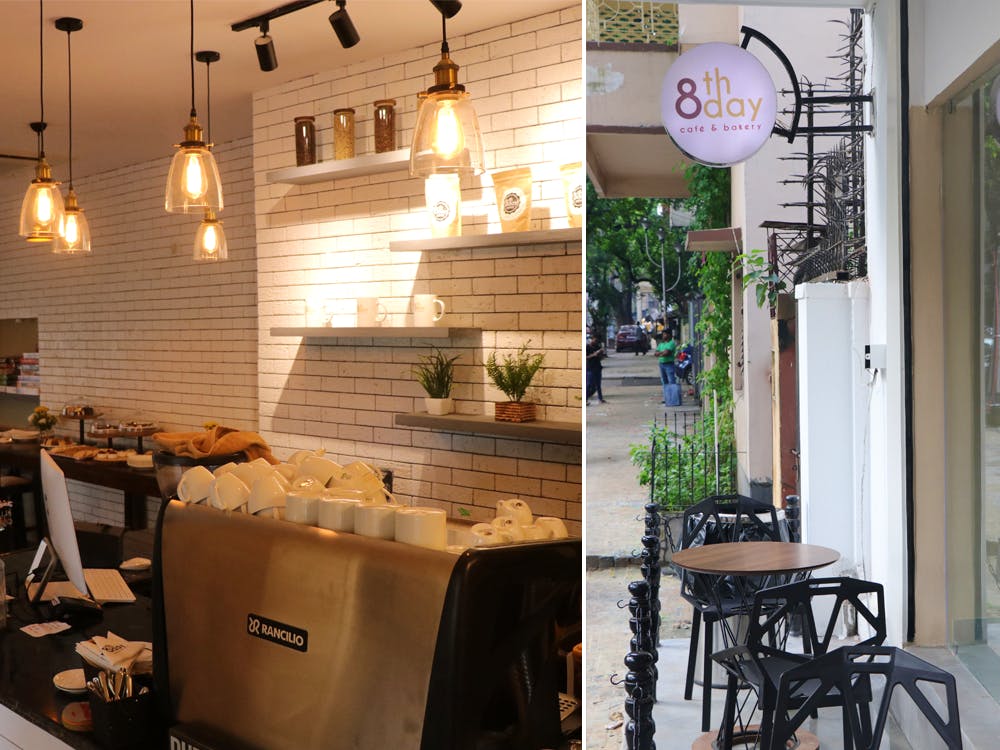 In food, do try their Thek-Town Bagel Sandwich, Southwest Hummus Wrap and Bagel Chip Nachos – they are scrumptious beyond doubts. Also, don't forget to dig into their delectable range of cookies and cupcakes – they will surely satiate the sweet tooth in you.
8th Day Cafe & Bakery
Arcadia, 6, West Range, Mullick Bazar, Park Circus Area, Kolkata
Price for two: 600 INR
Ph No: +913365005553
Paris Café
Subtle colors, lace and satin on tables, shimmering chandelier and artistic furniture is what makes Paris Café a dream café of every Kolkata millennial. Bringing back the essence of Eartha Kitt's 1953 popular song "C'est Si Bon", this café speaks volumes of French elegance and true Parisian vibes.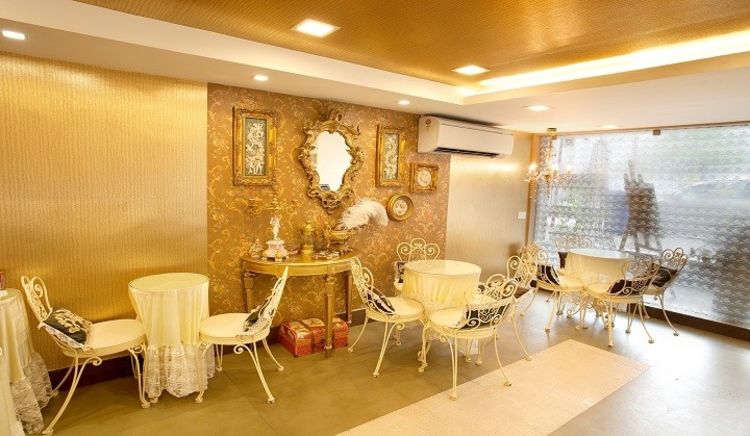 Even the menu is inspired by Parisian flavors and cuisine. Their Mozzarella Pesto de Tomatoes, classic Mac and Cheese sandwich and Mushroom Crepe with Cream Sauce are must-try items as well as their pretty-looking cupcakes and macaroons.

Paris Café (Three Outlets)
1/1, Ashutosh Chowdhury Avenue, Near Ice Skating Rink, Ballygunge, Kolkata
Block EP XI-I, South City Pinnacle, Sector 5, Salt Lake, Kolkata
17/1D, Near State Bank of India, Alipore, Kolkata
Price for two: 1000 INR
The city natives know the worth of these places, but those, who are travelling to Kolkata, need to add one of these cafes (if not all) in their itinerary. Moreover, all these places are located close to Park Street, the financial and hospitality hub of the city. Most of the hotels to stay are located in this part of Kolkata.
If you are having difficulty in locating one of the best 3 stars hotels in Kolkata, reach us at www.hotelvipgroup.com.
READ ALSO OUR NEW UPDATES